China ha completado su ciclo con un alto crecimiento, un país con salarios bajos y ha entrado en una nueva etapa que es la nueva normalidad.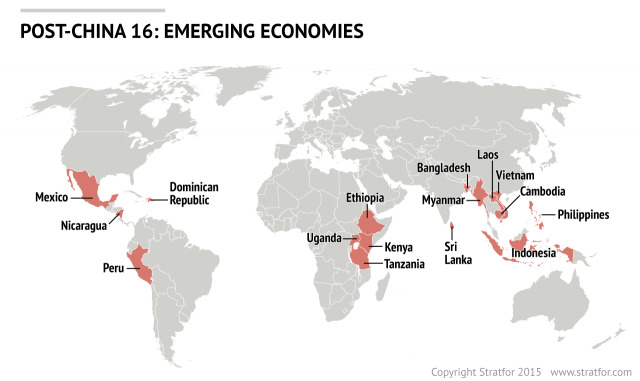 Fuente del mapa: Stratfor (Dec 28, 2015): Annual Forecast 2016. Republished with permission of Stratfor.
China continuará siendo una fuerza económica importante, pero no será el motor dinámico de crecimiento mundial que una vez fue. El capitalismo internacional requiere un bajo salario, región de alto crecimiento para altas recompensas en capital de riesgo. En la década de 1880 fue Estados Unidos, por ejemplo. China fue la región más reciente, en sustitución de Japón. Ningún país puede sustituir a China, pero hemos observado 16 países con una población total de alrededor de 1,15 millones de personas donde la manufactura de nivel de entrada se va tras salir de China. La identificación de los 16 países post-China no es un pronóstico. Es una lista de países en los que vemos un movimiento significativo de las industrias en etapa, especialmente de prendas de vestir y calzado de fabricación y montaje de telefonía móvil.
Los países 16 post-China son estrictamente sucesores a China con salarios bajos, los países subdesarrollados con oportunidades para hacer crecer sus sectores de fabricación de forma espectacular.
*****TEXTO COMPLETO*****
Fuente:
Time-Price-Research
/
Zero Hedge